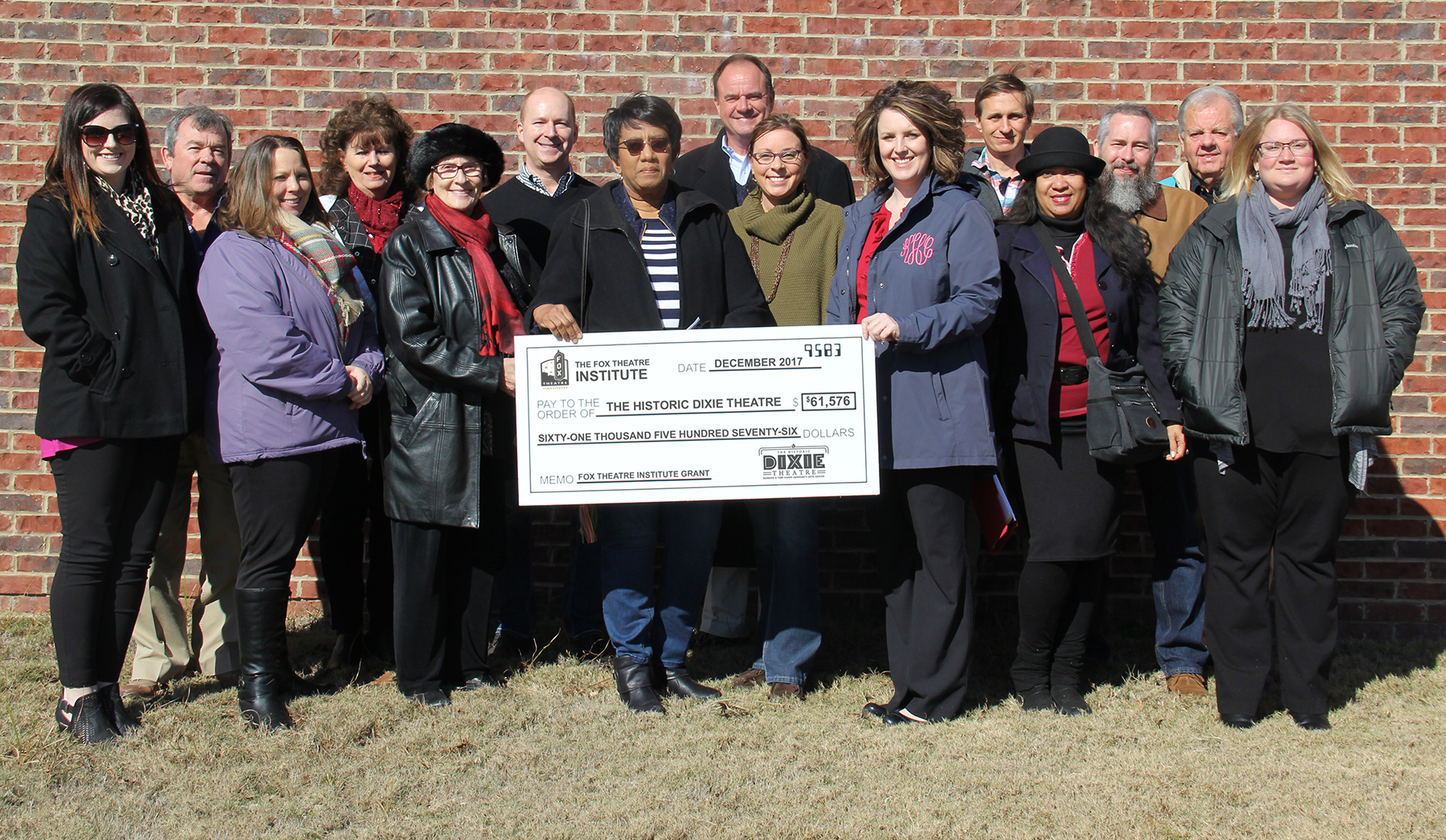 THE FOX THEATRE INSTITUTE NAMES THE HISTORIC DIXIE THEATRE RECIPIENT OF 2017-18 PRESERVATION GRANT
 Historic Preservation Fund to Provide $61,576 to Support Repairs
(Swainsboro, December 7, 2017) – The Fox Theatre Institute (FTI), a division of Atlanta's Fox Theatre, Inc., has awarded Swainsboro's Historic Dixie Theatre a Historic Preservation Grant for $61,576 to support the renovation of the theatre, allowing for repairs to the stucco and historic plaster, window and door instillation, and other important rehabilitation steps in preserving this community landmark. In addition to grant funding assistance, FTI also offers programing and consulting assistance to historic theatres and structures throughout Georgia.
"Being a recipient of a Fox Theatre grant is quite an honor and one that we as a community are grateful for.  This project began because of the foresight and vision of community leaders that saw great potential in what is an iconic piece of our county's history.  It is exciting to see this project come to fruition.  The grant provided by the Fox, in addition to the donations from private citizens, guarantees this project to be a success.  I am humbled by the donation from the Fox and am appreciative of their willingness to see the groundwork that is in place and offer their guidance and support as we move forward," said project co-chair, Kristin Hall.
As part of its ongoing commitment to Georgia's historic theaters, the Fox Theatre's newly expanded 2017-18 FTI grant program seeks to provide significant economic and cultural impact to local communities across the state.
"In less than a decade, the Fox Theatre Institute has truly flourished and brought our goals to life allowing greater access for the arts throughout the state of Georgia," said Vice President and Chief Operating Officer of Fox Theatre, Inc. Adina Erwin. "Historic preservation will mobilize greater economic development through the positive rehabilitation of our partner theaters. By increasing our financial commitments to historic preservation and implementation of specialized grant categories, we hope to make this our most impactful year for the Fox Theatre Institute."
The FTI program has committed more than $1 million since launching in 2008. The Historic Preservation Grant is one of four grant funding categories through FTI – including Historic Structures Studies or Planning, Technical Assistance and Services, and Urgent/Emergency Grant – all of which allows up to $500,000 of much needed statewide grant subsidy.
"It is such an honor to support these historic theaters beyond the much needed financial assistance. The Fox Theatre Institute offers others a successful model on how to thrive as a historical theater and an active entertainment destination," said Leigh Burns, director of the Fox Theatre Institute. "This is a grant program is singular to itself. It is unlike any other, in that it is solely invested in preserving theaters and structures to ensure positive economic development. I'm excited to see how these organizations will serve as a catalyst to positively impact the financial revenue of the surrounding community as well as grow access to the performing arts."
The Historic Dixie Theatre was opened in 1934 by W.M. Karrh and entertained thousands of Emanuel County residents and visitors with movies and live performances until its closure in the late 1960s. The property was donated to the City of Swainsboro by Karrh's grandsons for renovation into the Barbara & Tobe Karrh Community Arts Center, which will feature the restored theatre. Once complete, the facility will show first-run movies at a discounted rate and host live performances. In addition, it will house offices of the Emanuel Arts Council, an art gallery, community educational and meeting space, and three loft apartments.
"We have now been recognized by what is probably the most important theater group in our state.  They have recognized the renovation of The Historic Dixie Theater as an important and worthwhile project worthy of their support.  It should show all of us that this is a project worth our support," commented Project Co-Chair, Bobby Reeves.
This project of the City of Swainsboro is led by the Emanuel Coalition for Cultural & Economic Development (ECCED), a 501 (c) 3 non-profit organization that was created for the renovation and operation of the theatre and arts center.
For more information, about the Historic Dixie Theatre, visit HistoricDixieTheatre.com, or for more information about the Fox Theatre Institute, visit www.FoxTheatreInstitute.org.