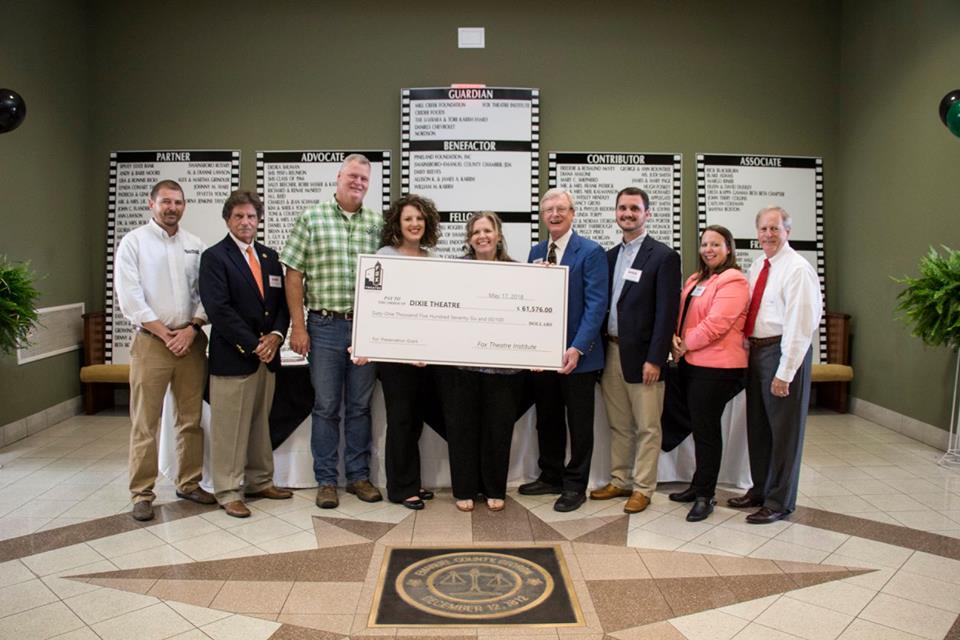 Rain did not dampen the spirits of dozens of community leaders gathered at the Emanuel County Courthouse Thursday, May 17th to celebrate the presentation of a Fox Theatre Institute Preservation Grant to The Historic Dixie Theatre.
Fox Theatre Institute Director, Leigh Burns, noted the organization's excitement in partnering with the local project, which includes technical support in addition to the $61,576 monetary award.  She noted that The Historic Dixie Theatre's award was the second largest grant given in the organization's 10-year history.
Project leaders, including Co-Chairs Bobby Reeves and Kristin Hall, Mayor Charles Schwabe, and County Commissioner Rusty Lane, offered remarks thanking the Fox Theatre Institute for backing The Historic Dixie Theatre project, as well as local citizens for the continued support that has made the theatre renovation a reality.
The funds granted by The Fox Theatre Institute were earmarked for the completion of the theatre's façade, including new stucco, storefronts, and doors, and the restoration of the original upper story windows. After the ceremony, visitors were treated to a "hard hat tour" amidst the progressing construction, led by project managers from Garbutt Construction.
The Historic Dixie Theatre was opened in 1934 by W.M. Karrh and entertained thousands of Emanuel County residents and visitors with movies and live performances until its closure in the late 1960s. The property was donated to the City of Swainsboro by Karrh's grandsons for renovation into the Barbara & Tobe Karrh Community Arts Center, which will feature the restored theatre. The Emanuel Coalition for Cultural & Economic Development, a 501 (c) 3 charitable organization, is leading the project along with the City of Swainsboro and Emanuel County Board of Commissioners. Once complete, the facility will show first-run movies at a discounted rate and host live performances. In addition, it will house offices of the Emanuel Arts Council, an art gallery, community educational and meeting space, and three loft apartments.
For more information about The Barbara & Tobe Karrh Community Arts Center featuring The Historic Dixie Theatre, visit www.historicdixietheatre.com or follow the progress on Facebook @HistoricDixieTheatre.